We're Getting Mutants in the MCU - The Loop
Play Sound
Lawrence G Murphy
[
]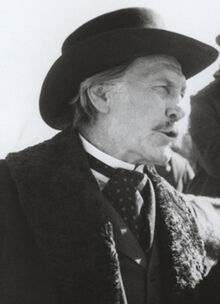 Lawrence Murphy is a heartless businessman who opened a general store in Lincoln hoping that he would be the only source for supplies for all the farmers and people living in the surrounding area. He is underhanded and even supplies only rotten beef to an Indian reservation, causing the deaths of hundreds via starvation and the army's retaliation when the Indians became unhappy with the inedible food.
Once John Tunstall came into town and opened a store, Murphy wanted to make sure that the Englishman's venture came to nothing and after many threats, that Tunstall ignored, Murphy ordered his killing.
What Murphy hadn't reckoned on was the loyalty of some of Tunstall's men who formed the 'Regulators' and tried to arrest many of the men that had helped with Tunstall's murder.
Murphy decided to ambush McSween, Tunstall's close friend and partner, and trap the Regulators in McSween's house. He then called in the army and all out war ensued.
Murphy was killed by a single bullet between the eyes fired by Billy Bonney after most of the Regulators had escaped.
The Truth
[
]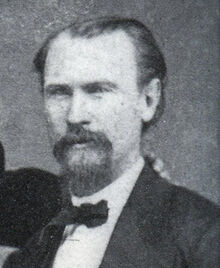 Lawrence Murphy was born in Wexford, Ireland in 1831. He moved to the United States sometime in his young adult life and enlisted in the 5th infantry. He fought during the Civil War with the Union Army and by the time the war was finished he was ranked as a Major.
In 1869 he moved to Lincoln, New Mexico, and opened a firm called L. G. Murphy & Co. By 1874 he made a fellow Irish man called James Dolan his partner and they changed the name to Murphy &Dolan. The company was very successful and they soon had contracts to supply beef to both the Mescalero Apache Reservation and Fort Stanton.
Unfortunately for Murphy some people in Lincoln and the surrounding area did not think too kindly of him, his high prices, or his liking for brute force. When a man came into town by the name of John Tunstall and opened a new general store Murphy was not pleased. With Murphy's blessing James Dolan hired gunmen and rustlers to try to cause trouble for Tunstall, which finally resulted in the death of the young Englishman.
Murphy missed out on much of the Lincoln War due to his ill health. He handed the running of the business over to James Dolan and retired to Santa Fe. He died on October the 20th 1878 from cancer of the bowels.